Discover the ultimate travel companion for adventure riders: the DMD-T865 Nav Tab. This 8" Navigation Tablet has been developed by the masters behind the revolutionary Drive Mode Dashboard App. Designed specifically for motorbike use, this rugged Android tablet takes your riding experience to the next level. With the ability to install any app from the Google Play Store, you can choose from a wide range of navigation apps such as OsmAnd, Waze and Google Maps. And if that's not enough, the DMD2 app already comes pre-installed, including a lifetime licence.
Why choose to navigate on an Android tablet instead of a traditional Garmin or TomTom GPS device? Because developments in Android navigation software are currently rocketing. The DMD2 app in particular is packed with every feature you can imagine, and is getting better every day thanks to direct user feedback that is incorporated into new updates.
One of the advantages over Garmin is that you can look up a petrol station, restaurant, campsite or hotel on the internet with ease. You can even check prices and reviews and then drive directly to your destination with a navigation app of your choice. With conventional GPS devices, this is a lot more cumbersome. At worst, you even have to copy or forward coordinates or addresses from one device to another.Another advantage is that you can use controllers. These are buttons and/or joysticks that allow you to operate the device without taking your hands off the handlebars. For example, you can move the map and zoom in or out while navigating.
With the DMD-865 Nav Tab, you no longer have to compromise. Enjoy the latest Android navigation technology, reliable hardware and seamless connectivity. Whether you are taking an adventurous road trip or planning an off-road ride on the tracks of the TET, this nav tab is your ultimate companion on the road. Experience the convenience, flexibility and continuous improvements the DMD-T865 Navigation Tablet has to offer. Your next journey starts here.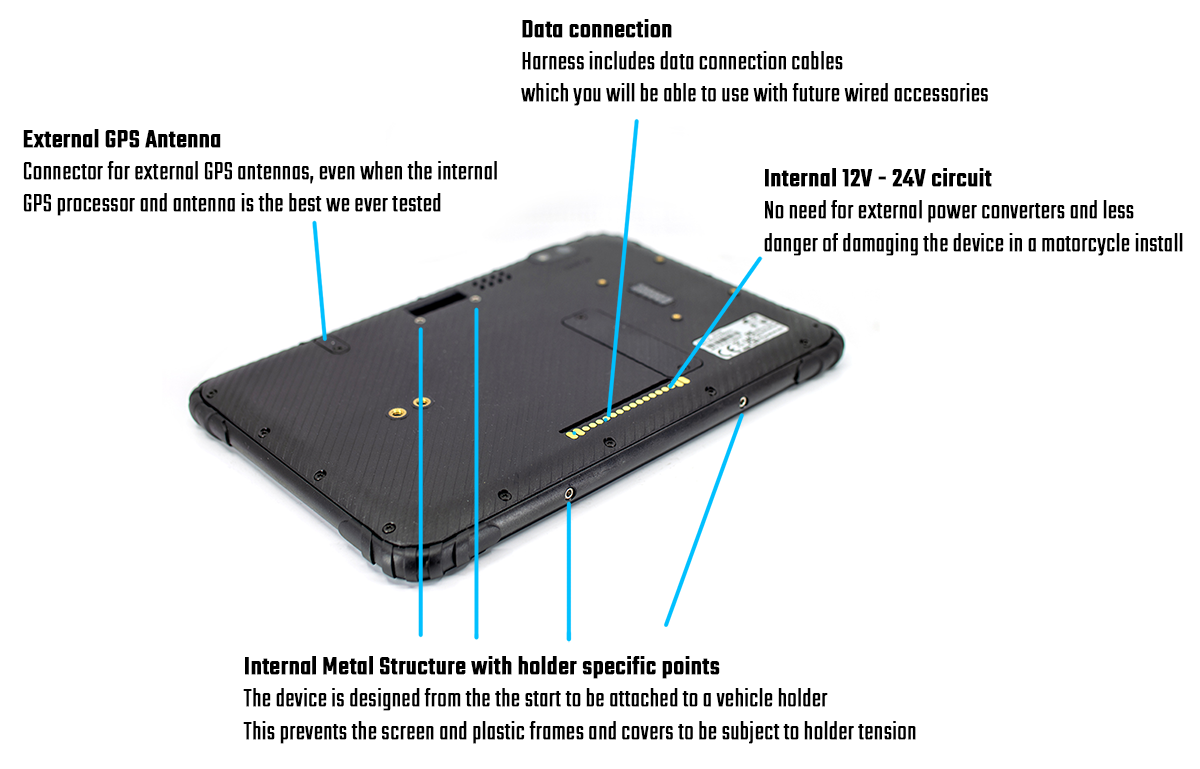 Specifications:
Octa Core Processor

Dimensions: 207mm L x 137.5mm W x 15mm D

Weight: 528g

Capacitive multi-touch / Glove, Wet

64GB eMMC Storage + 64GB removable SD

4G-LTE TDD:B40,B38,B41

Camera: Rear 16MP Autofocus

Light sensor & Proximity sensor

Android 12

Battery 3.8V 8000mAh

micro SDXC card slot (64Gb Included)

GNASS, GLONASS, GALILEO, A GPS

Motorcycle Charging dock with 12V power supply

IP67

OTA Updates

8inch, IPS panel (1280 x 800 pixel) 800 nit

2 x Nano-SIM

USB Type C (2.0) (OTG)

5GHz: 802.11a/n/ac — up to 500 Mbps;

Accelerometer, E-Compass, Gyroscope
Advantages over other tablets?!
It includes an AMPS charging base for motorcycles (no more USB cable charging)

The charging base is cheap and we sell it also as an individual item in case you have more then one motorcycle or also want to use it in your car

Motorcycle specific power supply with ignition detection

High Precision GPS with <= 2m precision

DMD2 pre-installed fully unlocked life-time

DMD2 certified which means no ROM update is released without testing DMD2 on it first and no new DMD2 function is released without testing on it either

Auto turn-on when you turn on your ignition

Configurable auto shutdown or auto turn-off screen, when you turn off your ignition

No camera stabilisers and built for motorcycle riding
Advantages over dedicated GPS units?!
Big screen!
Android eco-system (do more than navigate)
Google certification and Google Play Store which allows you to install any application that you want to use while riding
You can use it just like a regular tablet with a SIM card
Easy internet access by using a SIM card with a data plan
Lighter than most GPS units
Cheap charging base and original accessories
Higher screen resolution and faster processing than most dedicated GPS units
No dedicated GPS unit can beat the price / performance ratio
Believe it or not, the GPS precision is higher than 90% of dedicated GPS units
More regular system updates and always up to date apps
5Ghz Wifi connection
Supports handlebar controllers
Geweldig apparaat
Eindelijk verlost van de middeleeuwse interface en frustrates van mijn Garmin, ben enorm blij met deze tablet en de DMD2 software.
Werkt soepel en intuitief, kaarten en tracks laden gaat snel en eenvoudig, bombol handige features.
Maakt het leven makkelijker, on- en off-road.
Mijn idee was om de cockpit op te schonen: dus GPS (Garmin 278), touratech roadbook en IMO eraf en vervangen door 1 apparaat wat alles kan.
Tot nu toe heel tevreden. De mount is stevig en eenvoudig in gebruik, slotje erbij is handig. Laden gaat via de mount, moet nog meer (offroad) km's maken om de robuustheid op de lange duur te zien.
Kabel die erbij zit is erg robuust alleen met 2m wel overdreven lang.
De tablet voelt robust en de de zichtbaarheid (ook in de zon) is prima.
Bediening van de tablet doe ik via bar buttons (https://jaxeadv.com/barbuttons/?gclid=EAIaIQobChMI3OX1icLwgAMVzeZ3Ch0_ogNGEAAYASAAEgJQwPD_BwE), werkt prima!
Drive Mode Dashboards SW werkt goed. Omdat ik de beta versie gebruik wel af en toe een crash, wordt hopelijk beter bij productie.

Qua compleetheid voor de prijs ben ik erg tevreden!