Discount deal terms and conditions
We want to reward our loyal customers with great discount deals. Here you can read the terms and conditions of the various discount deals.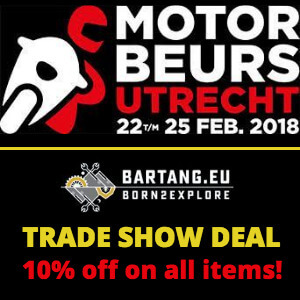 Motorcycle Trade Show 2018 discount: 10% on all items!
Conditions Motorcycle Trade Show 2018 discount:
Valid on the existing collection of KLIM technical riding gear and on the new 2018 collection;
Valid for visitors of the Motorcycle Trade Show in Utrecht who order and pay their KLIM product during the trade show and with discount code TRADESHOW2018 for all online purchases through www.bartang.eu;
Also valid on tools and accessories available on www.bartang.eu;
Not valid in combination with other discount deals or on discounted items on Sale at www.bartang.eu;
Valid from 22 February 2018 to 25 February 2018.


Explore360º-discountvoucher: €250 discount at Explore360º with the purchase of a KLIM motorcycle suit.
Conditions Explore360º-discountvoucher: 
Read more about this great partnership between Explore360º and Bartang!