The MadMules is a fully modular luggage system that can be used on any motorbike thanks to its unique design. The MadMules are "rackless" which means that no luggage rack or pannier rack is needed to attach the bags.
Turkana's, MadMules™ innovative saddlebags fit most Adventure and Enduro bikes, even Superbikes and Tour bikes. Probably the most versatile, adaptable, configurable, modular motorbike rackless luggage system.
MadMules™ is designed for hard and rugged off-road and adventure riding. From weekend trips, ultralight hotel stays and international fly-to-ride trips to multi-month overland expeditions. A big advantage is that the MadMules™ do not require side luggage racks, which add weight, width and bulk to a motorbike. The handy waterproof inner bags make it quick and easy to take your gear to your tent or hotel room. The usually dirty outer bags are left behind on the bike.
The MadMules™ allow for an individual riding style, carrying the weight as low and close to the bike as possible.
Create your own ideal luggage set-up by combining the MadMules with Turkana BushBabies, OxPackers or other MOLLE bags. The MadMules can be ordered as a separate Base, Base with 2 x BushBaby, Base with 2 x 5L bags, Base with 2 x 10L bags, Base with 2 x 15L bags and Base with 2 x 20L bags.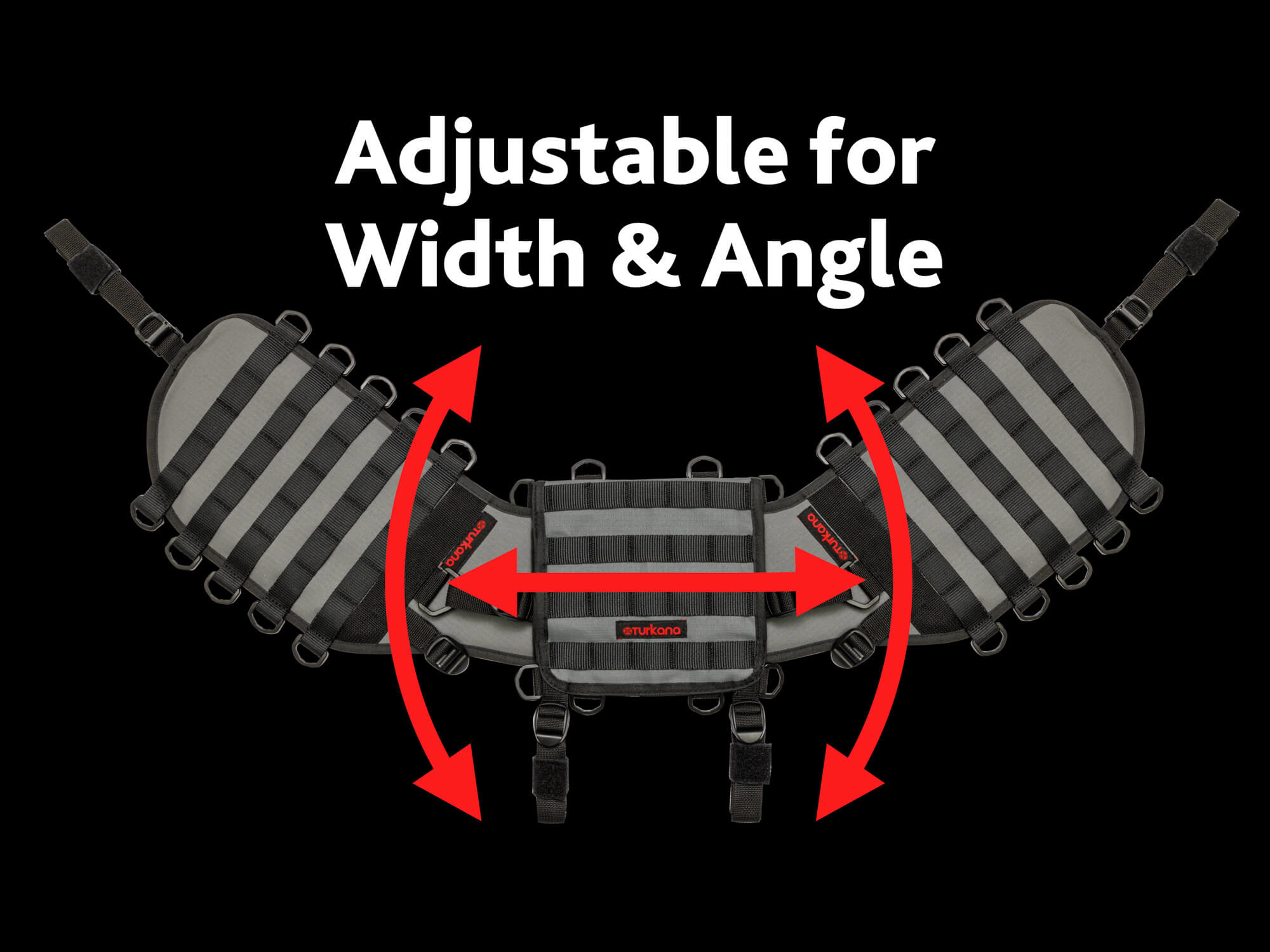 Fully adjustable
With the MadMule™, you have full adjustability to fit your luggage on any kind of motorbike, from enduros to adventure bikes and from touring to naked bikes. With the ability to adjust the width and angle of the side panels, the MadMule™ can be adapted to your specific needs, eliminating the need to have multiple luggage systems for each motorbike in your garage.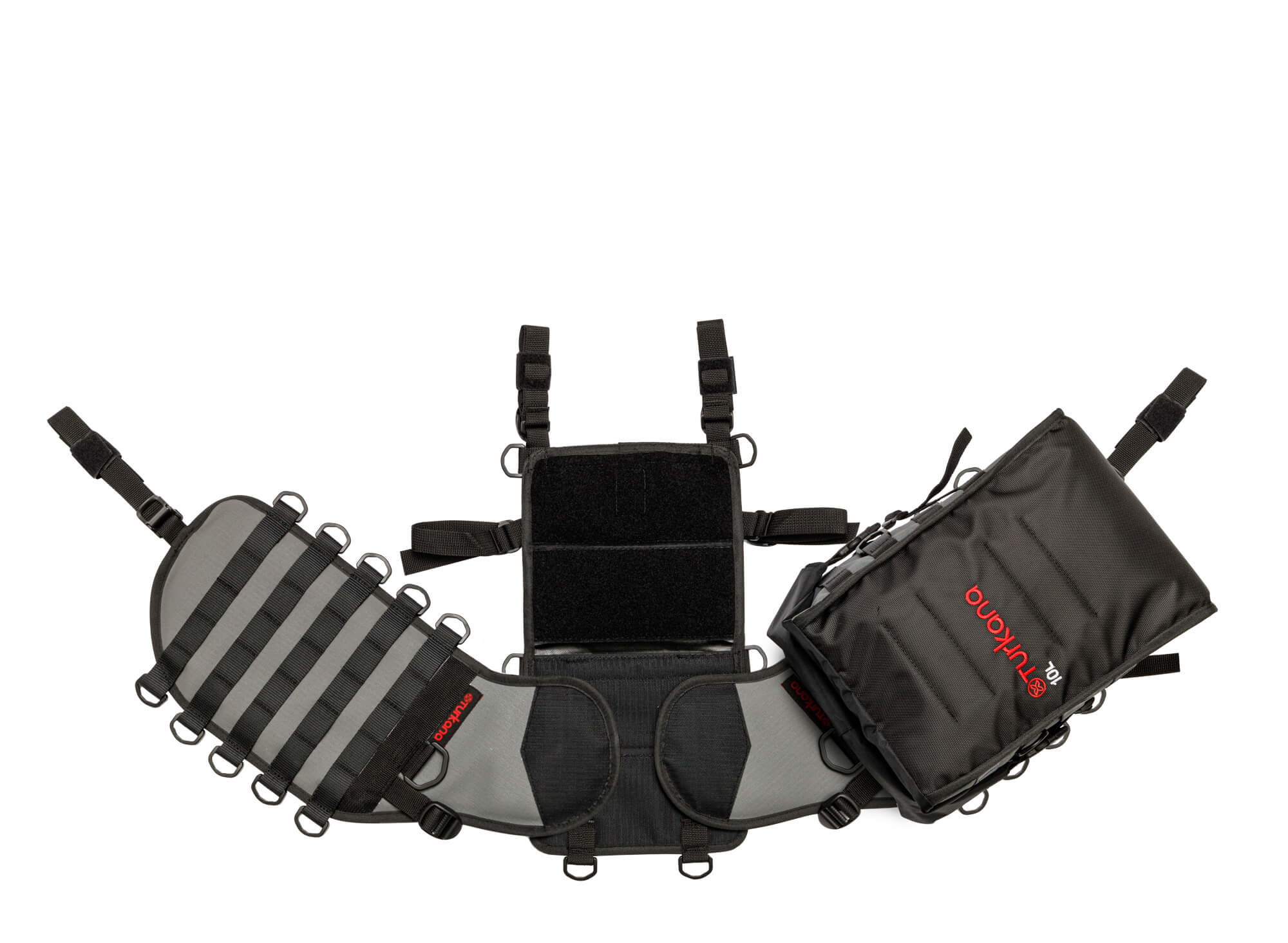 Modular design
The MadMule™ system includes an upper base sandwich that can also be used without side panels for when you are carrying small loads, with the option to add any Trek-Bag for extra storage space. You thereby create a luggage carrier with mounting options, this can be very handy on enduro bikes, for example. The Trek-Bags are available in 4 different sizes and can be easily attached to the MadMule base with the M.O.L.L.E system, which forms a strong bond between the base and bags.

Durable construction
The Trek-Bags are made of the tough Rhinocote™ material and have reinforced stitching at stress points, allowing them to withstand any adventure. The roll-top closure makes the bags 100% dust, mud and sandproof, while the inner bags are 100% waterproof.
Impact protection
The MadMule™ provides impact protection for both your luggage and motorbike. The side panels and base are padded to prevent damage, while the Trek-Bags are double-layered for extra strength and protection. The kit includes self-adhesive transparent film to prevent damage to your motorbike.

M.O.L.L.E. system
MadMule™ is compatible with the M.O.L.L.E. system, allowing you to add extra bags for more storage space and customise the system to your needs. The MadMule™ is also compatible with 2L OxPacker™ and 3L BushBaby™ accessory bags.
Field repairable
Accidents happen, we know from experience, whether it's dropping your bike on rocky trails or getting pierced by an Oryx in the Namib desert. MadMules™ are designed to survive harsh conditions and accidents are inevitable on adventure and offroad trips
Repairability is a key design feature of MadMules™. This means that most damage is easily repairable with a needle and thread, anywhere in the world.
The straps and components of the rackless system are designed to be field repairable or replaceable to reduce costs and keep going after crashes. No need to buy new bags in case of damage, just replace or repair what is needed. Furthermore lifetime commitment and the "Oh Buggar!" gear backup commitment.
In conclusion, the rackless MadMule™ luggage system is the perfect solution for any motorbike adventure, offering maximum protection, durability and versatility.
MadMules™ Rackless Base set consists of:
Turkana MadMules™ Base complete - Left and right side panel & Top sandwich base
2 x Extra long straps (130 cm) over the saddle or to secure the Sandwich base.
1 x Tail strap
2 x stainless steel cleats
Protective film
Trek Bags each contain:
1 x waterproof/dustproof removable inner bag.
5L - 1 x compression strap.
10L, 15L, 20L each 2 x compression straps.
Product Features:
Rackless Modular Design
Combined base and bags weigh only 2.6kg+/_
Quick fitting-dismounting on any motorbike
Fully adjustable width and angle for narrow enduros to large adventure and touring bikes
Universal fit for most motorbikes
M.O.L.L.E system - attach & configure different bags & pouches
MadMules™ Top Base can be used separately to secure luggage
Base configures for different size/volume bags
Removable 100% waterproof dustproof inner bags
Repairable in the field
Reinforced stitching at all Base stress points
Backed by a lifetime commitment
"Oh buggar!" gear backup commitment
Product details:
Width: 22 cm
Length: 20 cm base / 51 cm including side panels
Weight: 1.4 kg (base only)
Capacity: Depending on choice of Trek-Bag